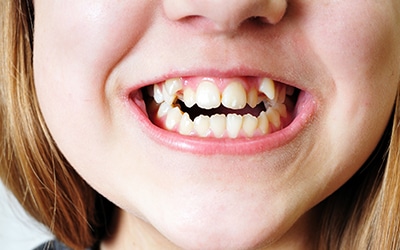 Common Causes of Crooked Teeth
June 25, 2019
Image Credit: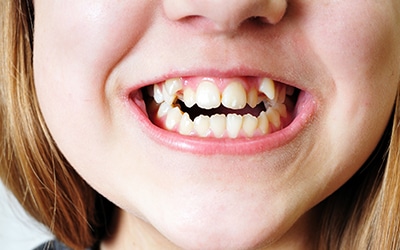 The American Association of Orthodontics conducted a study that concluded that over 1/3rd of American adults were not happy with their smile or teeth. Additionally, crooked teeth were listed among the largest turn-offs for women and men in the U.S. Needless to say, confidence in your teeth and smile is very important.
Crooked Teeth and The Causes
If you have crooked teeth and are unhappy with your smile, you may wonder about the causes of your uneven smile. In many cases, crooked teeth are the result of genetics and aren't the fault of outside sources. However, in other instances, crooked teeth are the result of bad habits. These bad habits include:
Poor oral hygiene habits like brushing, flossing, or visiting the dentist every six months
Having a tooth pulled, which can cause the other teeth to shift around in the mouth, creating spaces and uneven teeth
Thumb-sucking habits in childhood
Breathing and airway issues can have an impact on the development of the jaws
Deviated septum
Allergies
Polyp
If you are a part of the 1/3rd of adults who is unhappy with your teeth and smile, there are many ways to fix this issue. Orthodontic treatment for adults is more popular than ever thanks to less conspicuous adult braces options. To make an appointment at our Spanish Fork, Utah orthodontics office, please 
contact Kuhni Orthodontic Studio
 today. We want to help all of our patients achieve the smiles of their dreams.